…The enchanting sound of the Celtic harp combined with the visual beauty of the instrument enhances any event and creates the perfect atmosphere for weddings, birthdays, parties and special events…
Ramona the Celtic Harpist

Ramona is an accomplished, professional harpist and has been performing for over twelve years. She studied with renowned classical harpist Mary Morley. Her repertoire includes Irish, English and French music and features pieces by the most revered of Irish harpists: Turlough O'Carolan, whose music embodies the perfect marriage of Classical and Celtic styles.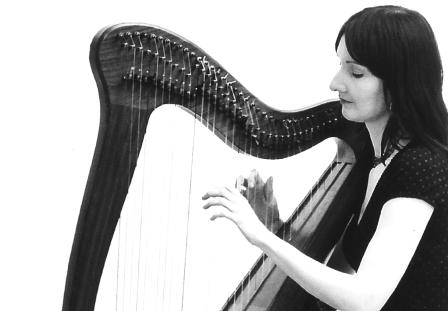 Much in demand playing for weddings and events throughout the UK she travels extensively, performing in many stunning venues including: Leeds Castle, Chewton Glen, Lympne Castle, Caverswall Castle, Whitstable Castle, Mount Ephraim, Fort Amherst, Salmestone Grange, St. Augustine's, Carey's Manor and Eastwell Manor to name but a few.
She has wide experience of playing for many occasions including: receptions, weddings, civil partnerships, handfastings, birthdays, anniversaries, garden parties, corporate events, welcoming ceremonies and funerals. She also performs for concerts, cultural events, storytelling workshops, residential homes and teaches privately.
Ramona's Celtic Harp is said to be the most romantic and intimate type of harps. It is a 'clarsach' type made by Pilgrim Harps and has a full, sweet tone. Ramona is frequently requested to sing whilst accompanying herself on harp. She also occasionally performs with string quartets and guitarists.
For information about wedding packages available please visit the wedding page.
To make an enquiry or to discuss your musical requirements please contact Ramona.
"
Hi Ramona,
Just wanted to say a huge thank you for coming and playing at our wedding ceremony back on the 18th May, Everyone commented on how lovely your playing and singing were, it was beautiful, Thank You!
Best Regards Davina & Shane
"
"
Dear Ramona,
I think there are no words to express our gratitued for your wonderful performance and the atmosphere you helped to create on our special day.
We kept you as a surprise for our guests which was much loved by everybody.
Thank you for making our day so special.
Kind Regards Marco & Tina
"
"
Thank you for playing at our wedding on Sunday, all the guests thought you were amazing. Claire
"
"
You made the moment magical for us
the music was beautiful and really made it a personal and romantic wedding reception for which we offer you great thanks. We hope we will be able to hear your talents again in the future. Best wishes and warm regards Mike and Daniela
"
"
Hello Ramona, thank you so very much for the wonderful job you did. The music was so beautiful and our guests are still praising it. You did an amazing job thank you. Mr and Mrs Logan
"
"
Hi Ramona,
Sorry this e-mail has taken so long to get to you! I can't thank you enough for the brilliant job you done at our wedding, you were fantastic and everyone commented on you! Daniel
"
"
Dear Ramona, Just a quick note to thank you so much for your work on Saturday afternoon and our wedding. Although we spent so little time in the reception room, we were occasionally aware of the gentle, discrete harp music which was perfect for the occasion. We had the most amazing day and your part in it played a very special part, particularly with the first dance.
Many thanks, Danielle & Giovanni - Wedding
"
"
Hello Ramona, Just wanted to say thank you so very much for sharing with us your wonderful talents. You are truly blessed, so thank you for making it so romantic - I was fighting back the tears! The whole day was beautiful. With very best wishesJan xxx - Wedding
"
"
Dearest Ramona, thank you so much for the beautiful music you played for us. We and our guests were swept into our reception. You effortlessly set the scene for a beautiful midsummer wedding. A truly enchanting start to an unforgettable evening.Katie and Christophe - Wedding
"
"
Dear Ramona, thank you very much for playing the most beautiful music at our wedding. We had many compliments and everyone certainly enjoyed listening. As the bride, I missed out on the music you played prior to the ceremony, didnt hear you as I walked down the aisle (too terrified) but heard on the way out… beautiful. Many thanks and I would highly recommend you. Kind regardsDominique - Wedding
"
"
Dear Ramona thank you so much for playing such wonderful music on our wedding day. So many of our guests enjoyed you, you started our day with such style and grace, lots of love xAngela and Craig - Wedding
"
"
Thank you so much for making our special day so elegant with your beautiful harp-playing, you really helped to create the magical atmosphere that our guests said our wedding had! Thank you very much for providing such a professional and enjoyable service, will recommend you highly. Very best wishes XXXXXEmma & Ian - Wedding
"
For information about wedding packages available please visit the wedding page.
To make an enquiry or to discuss your musical requirements please contact Ramona.